"Look after the pennies and the pounds will take care of themselves!"
As you know we live more and more in a cashless society.
Collection boxes are becoming relatively obsolete. Takings from collection boxes have gone down in the past few years by many thousands at the Centre and we see it on our balance sheet decreasing further!
This is another call to action for which we'd be very grateful – if you know of a shop, café or pub (or anywhere) that might possibly take a collection box and you'd be prepared to take it there and collect it when it's full please let EJ or Jane know! We can give you an official letter of authorisation to do this.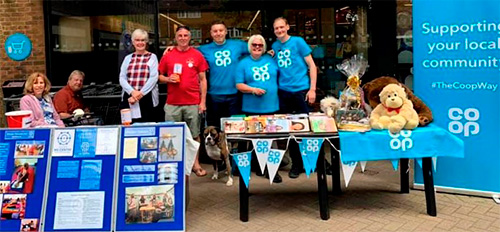 We are thrilled to have been chosen as one of the Co-op Southwick's Local Causes for 2019.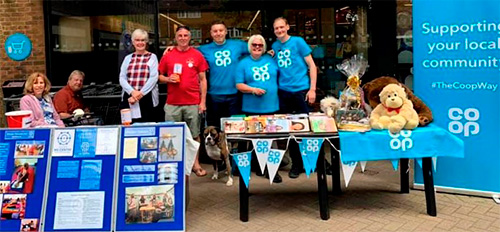 Robbie and his team at the Co-op have already shown our Centre so much support so far this year, from supporting us at our Open Exhibition Evening in May, to providing us dates throughout the year to hold collections at the Southwick Co-op, and even getting together a team of Co-op staff to join us on our annual sponsored bike ride in June. So far this has raised over £1000!
Yes you can help!
Become a member: Co-op gives 1% of what its members spend on Co-op branded food products in stores and selected services, as well as the money raised from carrier bags and scratch cards to local causes– like us– The Sussex MS Centre.
Choose the Sussex MS Centre as your local cause: Once you become a member, or for existing members, simply go online to coop.co.uk/membership and search for Sussex MS Centre/No. 28440
Volunteer for a collection: Our next collection dates at the Southwick Co-op are: Saturday 27th July and Saturday 14th September. Could you spare a couple of hours to come along and represent the Centre on either of these dates? To find out more email events@mssussex.com
In our autumn newsletter 2018 we wrote of how the NHS had reversed its previous decision and now recommends Ocrelizumab (drug name Ocrevus) for the treatment of relapsing remitting MS.
Disappointingly however, at the same time, NICE announced that Ocrevus was still too expensive for people with Primary Progressive MS (PPMS).
The good news is that the NHS struck a deal with Roche (the pharmaceutical company) and patients with PPMS are now able to access the drug. It is estimated that 10,000-15,000 people have Primary progressive MS (PPMS) in the UK, of whom around 2,700 people could be eligible for treatment with Ocrevus.
If you have Primary Progressive MS and you have started to take Ocrevus please feedback to us. We welcome all feedback about drugs and you can contribute by going on our Drugs directory as someone that can talk with other members about a drug you have experience of.
To find out more information about Ocrevus head to: www.mstrust.org.uk/a-z/ocrevus-ocrelizumab