Fun, giggles, sparkle and shimmies is what you can expect in our Belly Dance class with Galit.
You will be learning basic Belly Dance moves with simple variations and step combinations. Special attention is given to body awareness, posture and self expression through dance. The class is gentle yet upbeat.
Galit Mersand
Mondays
11.45am to 12.45pm
With over 20 years teaching experience, Galit is able to work with different levels of mobility and will adjust the lesson to the needs of the group.
Join Lynne every Tuesday and Thursday for an hour of fun and fitness.
There are a great variety of benefits from taking part in fitness classes, these include a strengthening of the cardiovascular and respiratory systems, improved self-esteem, an assistance with maintaining bone and muscle strength, as well as helping to manage your weight, easing depression and helping to manage stress, and helping people to sleep better.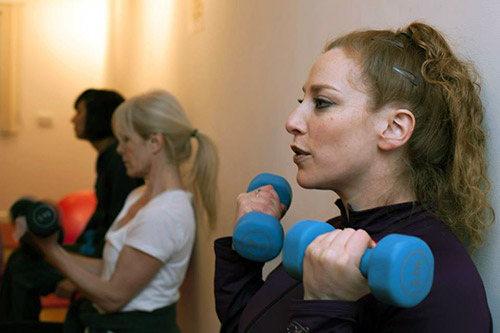 Lynne
Tuesdays
10.15am to 11.15am & 6.00pm to 7.00pm
Thursdays
2.30pm to 3.30pm
Lynne was diagnosed with MS in 2005. Because of this she chose to do a personal training course and various other courses specialising in disability from 2007 onwards.
Prior to this Lynne joined the Centre as a counselling practitioner in 2006.
Pilates is a well-proven body conditioning and balancing method that works from the inside out.
Low impact, yet thoroughly effective, exercises and stretches target the deep postural muscles and help to re-balance the body with mindful movement in harmony with the breath. It promotes strength, tone, flexibility and relaxation and helps deal with postural pain.
As you achieve better alignment and posture, extend your range of movement and release tension and stress, the result is a happier body and mind. The gentle weight-bearing exercises in Pilates are also beneficial in maintaining, and even improving, bone density. Pilates is suitable for almost anyone, whatever age or level of fitness; whatever challenge is right for you.
The mat work, or seated exercises, tone and stretch the body, increasing strength and flexibility in all muscles and joints, resulting in ease of movement.
Pilates focuses on correct breathing and strengthens the deep core stabilizing muscles of the lower back and abdomen. Pilates exercises are low impact and work to balance the body through slow, controlled exercises that work on quality not quantity. Pilates methods are suitable for all ages and abilities providing an energising workout.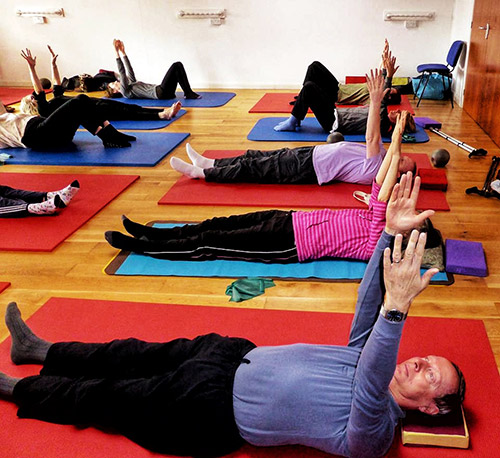 Miki
Thursdays
10.30am to 11.30am
Micaela, known to all as Miki, has a Doctorate in Chemistry (Sardinia, Italy) and a MSc at Cambridge University but found her true vocation in helping people recover from injury and postural deficiencies through exercise.
Having had a successful sporting background herself, a third dan black belt in judo, she has qualifications in Pilates, Yoga, Activation and more recently massage.  Miki has been teaching Pilates since 2003 and is a recognised Level 4 Instructor.
James
Mondays
1.15pm to 2.15pm
James has taught Pilates at the Centre for over five years and loves his crazy Monday classes here!
When James isn't here he is either teaching Pilates or working on outdoor event programmes all over the UK looking after athletes, runners, cyclists and walkers.
Tai Chi is a form of gentle exercise that combines deep breathing and relaxation techniques with slow, graceful movements.
It can be done by individuals or in groups. Because Tai Chi is largely based on technique, it does not require great strength or flexibility. It is used by some people with multiple sclerosis to help with balance, stress relief and general wellbeing.
Mo
Thursdays
1.00pm to 2.00pm
Therapeutic Voicework recognizes the body's ability to heal itself through breath work, sound, and movement, and it provides a deep sense of relaxation and well being.
Join Rose each Friday for an uplifting hour in our voice workshop, we guarantee you will come out smiling!
Rose Fuhrmann

Fridays
11.00am to 12noon
A lifelong enthusiastic singer, Rose lost her voice twice: first following the suicide of a friend, then over a failing relationship.
A psychotherapist pointed out how important singing had been in her life - as an expression of true authenticity and emotional self-regulation - and recommended she join a voice training course with First Nature to get back this important life tool. The result was amazing, and being a therapist and teacher herself (shiatsu, qigong and work with autistic children) it was a small step to engage in voice work.
The singing group at the MS Centre has been running for near 15 years now. We not only sing songs, but alongside we also work on breath, muscle tone, pronunciation, concentration, memory, word retrieval, acute hearing and listening, vocal improvisation,  improving physical reaction time by throwing balls around that do not exist and making a lot of funny noises meanwhile. We have a lot of fun making fools of ourselves not caring one bit. Hence we sung at MS Christmas parties and at Sainsburys for fundraising events - and quite well too! But it is not about beautiful singing, but about having a voice and daring to let it be heard.
To know how that feels, join us and be surprised!
Seated yoga offers simple warm-up stretches, breathing exercises, yoga postures, and a relaxation exercise, all done sitting down.
All sitting yoga poses bring elasticity to the knees, hips, ankles, and muscles of the groin. Seated yoga removes tension and hardness in the diaphragm and throat, which makes breathing smoother and easier. It keeps the spine steady, pacifies the mind, and stretches the muscles of the heart. It also causes blood circulation to increase to all parts of the body.
Louise Windsor
Thursdays
12noon to 1.00pm
Louise has been studying and practicing Yoga and Meditation for over 12 years.
She took her first teacher training in India in 2012 and has since taken further courses in Yoga for Post Traumatic Stress, Yoga as a therapy, Yin Yoga and Pregnancy Yoga. Her passion is the slow mindful aspect of the practice, helping to ease the busy mind into the moment to create space to feel calm and balanced. Through her studies in Yin Yoga she is also fascinated by the energetic benefits of the practice related to Traditional Chinese Medicine and the meridian (energy) lines that run through the body.
Her chair yoga class is gentle and mindful. There will be some movement with the breath to get the joints moving and encourage the energy, Qi, to flow easily, some held poses and always a guided relaxation meditation. All levels are welcome.
Yoga is an applied science of the mind and body.
The practice and study of yoga helps to bring about a natural balance of body and mind in which the state of health can manifest itself. Yoga creates an internal environment that allows the individual to come to his or her own state of dynamic balance, or health.
There are many benefits to yoga including, reduction in anxiety, more resistance to stress, lower blood pressure, more efficient heart function, better respiratory function, and improved physical fitness.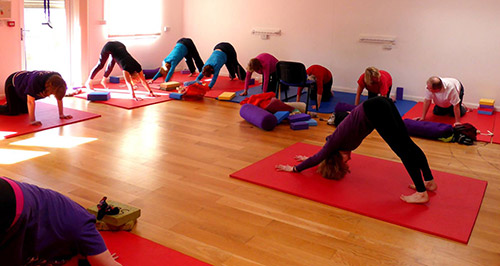 Julia
Wednesdays
10.30am to 1.00pm
I qualified as an Iyengar Yoga teacher in 1995 and have since gained my Junior Intermediate certificates and am able to teach remedial classes.
The yoga classes are adapted using props so that anyone with a mobility impairment can participate safely and accurately in them. This way the benefits of yoga:  more space;  flexibility;  strength;  balance and calm can be felt and enjoyed.
The sessions always include breathing and relaxation and the more physical aspects of yoga are approached in a fun and mindful way. Everyone is welcome to drop in and see if this is something they may enjoy and feel healthier from.