Co-op Southwick Local Cause
We are thrilled to have been chosen as one of the Co-op Southwick's Local Causes for 2019.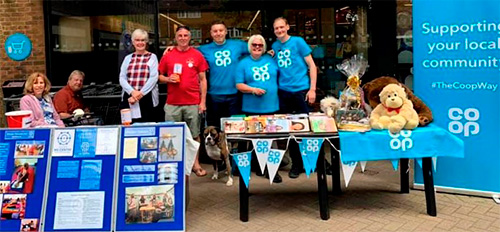 Robbie and his team at the Co-op have already shown our Centre so much support so far this year, from supporting us at our Open Exhibition Evening in May, to providing us dates throughout the year to hold collections at the Southwick Co-op, and even getting together a team of Co-op staff to join us on our annual sponsored bike ride in June. So far this has raised over £1000!
Yes you can help!
Become a member: Co-op gives 1% of what its members spend on Co-op branded food products in stores and selected services, as well as the money raised from carrier bags and scratch cards to local causes– like us– The Sussex MS Centre.
Choose the Sussex MS Centre as your local cause: Once you become a member, or for existing members, simply go online to coop.co.uk/membership and search for Sussex MS Centre/No. 28440
Volunteer for a collection: Our next collection dates at the Southwick Co-op are: Saturday 27th July and Saturday 14th September. Could you spare a couple of hours to come along and represent the Centre on either of these dates? To find out more email events@mssussex.com