Individual Therapies and Therapists
We have a lovely array of therapies on offer from our experienced and knowledgeable therapists and practitioners.
Booking should be made through our reception but payments are made directly through therapists. Therapists generally charge £20 for a 45-60 minute session.
Cancellations:
Most therapists can't afford to waive payment if you do not give them advance notice of 24 hours.
They are generously giving of their time to the Centre and offering therapies for at least half the price of the average high street therapist so we need to respect this as much as humanly possible, given the restraints of MS symptoms!
Counselling
We understand the challenges of living with life changing conditions and the impact it can have on people's mental wellbeing.
If you need help at any time, we have two counsellors working within the centre. Please contact EJ or Ali if you would like to book a counselling session on 01273 594484.
Room 1

Room 2

Room 3

MONDAY
Chiropody Julia every 6 weeks
Alexander Technique Rebecca 10am - 3pm
Massage Eva 10am – 3pm
TUESDAY
Shiatsu Al 11am - 3pm
Acupuncture Evette 10am – 1pm
Massage Viola 10am – 3pm
WEDNESDAY

Massage Eva 9am – 12noon
THURSDAY

Acupuncture Evette 10am - 4.30pm
Reflexology or Indian Head Massage Sonia 10am - 3.30pm
FRIDAY
Shiatsu Amanda 9.30am – 1pm
Beauty or Holistic Therapies Sarah 9.30am-2.30pm
Osteopathy Virginia 12noon – 2pm
Massage Viola 2.00pm - 3.30pm
Acupuncture is a holistic form of therapy which is part of the traditional Chinese system of medicine.
This system believes the body is primarily an energetic organism. Acupuncture has the potential to manage some of the symptoms of MS and improve levels of wellbeing and quality of life. Many people find acupuncture brings benefit.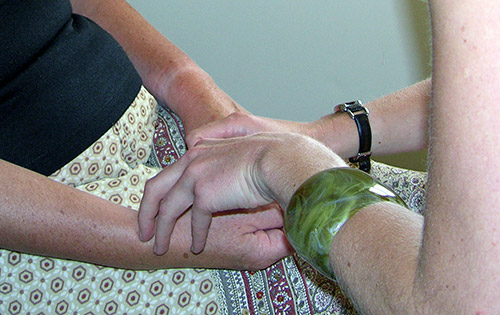 Evette Ford
Tuesdays and Thursdays
10.00am-1.50pm
Evette has a BSc in Oriental Medicine and Acupuncture from the International College of Oriental Medicine in East Grinstead.
Evette's journey as an acupuncturist has taken her on multiple projects around the world, including to Nepal, Greece, and France. She has specialised training the NADA protocol, a form of ear acupuncture used in treatment for trauma, addiction, anxiety and depression.
Evette does home visits in and around the Sussex area and helps run a multi bed clinic at the Tree of life health centre. She has also had the honour of being the acupuncturist at the Sussex MS centre in Southwick over the past year.
Sarah began working at the MS Centre in 2013 having qualified as a Beauty Therapist in 2000.
Beauty therapies on offer are Facials, Manicures (recently qualified in Gel Polish for nails), Pedicures, Lash & Brow Tint (subject to patch test) and Brow Shaping.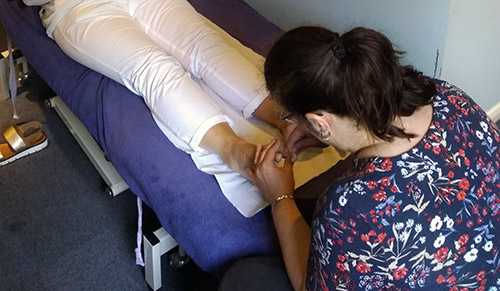 Sarah Brisley
Fridays
9.30am to 2.00pm
In 2001 Sarah trained in Aromatherapy, Hopi Ear Candling, Indian Head Massage, Reflexology (hand and foot), Swedish Massage as part of a Holistic Therapies Diploma.
Sarah loves her job and enjoys working with the centre members very much. When away from the Centre she is busy running her mobile beauty & therapy business.
Julia's role is to provide routine foot care and maintenance for your feet.
It can be anything from routine nail cutting or more specific foot concerns such as corns, calluses, fungal nails/thickened nails or bunions.  These may appear as something small and insignificant but can pose great difficulties with footwear and many daily activities.
The service offered is to ensure your feet are healthy and in the best possible condition, whatever your age.  As an FHP Julia is qualified to work with additional problems such as diabetes and circulatory problems.
Julia Johnson
Mondays every six weeks
9.30am to 2.45pm
Eva is an experienced, full-time therapist and passionate about soft tissue therapy.
Treatments are highly adaptive to individual needs and we also had great results with wheelchair users. Eva combines massage, structural mobilisation techniques and reflexology - which are not only deeply relaxing rejoicing, but can also relief long-standing pains and aches, free up your joints and increase your mobility.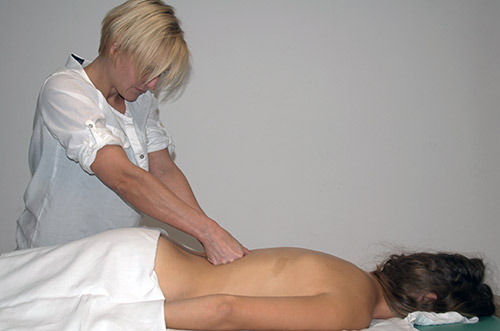 Eva Valkova
Mondays
10.00am to 2.00pm
Wednesdays
9.00am to 3.00pm
Massage, Physiotherapy and Physiogym
Viola is a chartered physiotherapist and massage and complementary therapist.
Viola has experience with a wide range of physical and medical conditions and treat clients from the less able to the very active- for relaxation of body and mind, to promote healing and recovery.
She focuses on treating the whole person and combining treatment methods to suit individual needs. Body awareness and self-help exercises are encouraged to maintain health and well-being.
Viola is available for bookings on Mondays and Tuesdays at the centre, and holds 'PhsyioGym' on Friday afternoons which is a drop-in group physio session held in the Gym at the Centre.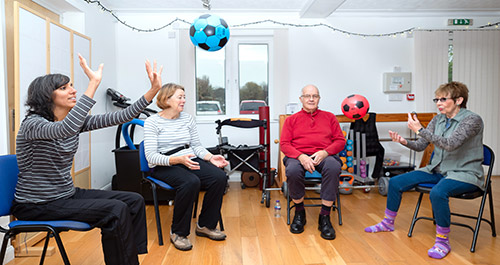 Viola Santa
I have been working at the MS Centre since 2014 offering Physiotherapy and Massage treatments to Centre members. I also run the "Physio-Gym" drop-in class on Fridays.
Before coming to the MS Centre I worked as a Physiotherapist in the NHS and for several years at a Respite Care Centre for people with MS. Over time I've had the opportunity to work with a great number of people living with MS and appreciate the wide variety of symptoms and levels of mobility that people have.
I find the Sussex MS Centre a very welcoming and supportive place. Considering a member's individual needs, I enjoy supporting them to find more ease in their body, improve movement and mobility, as well as confidence and well-being. Treatments can include advice on exercise and posture and things people can do to help themselves in their daily life.
Apart from Massage, Sports Massage (and Physiotherapy) I also trained in Craniosacral Therapy and Shiatsu and integrate those skills into my treatments.
Osteopathy is a way of detecting and treating damaged parts of the body such as bones, joints, muscles, ligaments, nerves, connective tissue and assessing their inter-relationship.
In order to function efficiently with the minimum wear, stress and energy, the osteopath uses manual techniques to assist the body in achieving a balance. Osteopathy for the treatment of spinal problems, it is also effective in treating mechanical problems throughout the body such as limbs and viscera.
Osteopathy can be beneficial for anxiety, arthritis, asthma, frozen shoulder, headaches, IBS, ME, MS, period pains, sciatica, sinusitis, tension, visual disturbances, whiplash, postural, circulatory digestive and urinary problems.
Virginia Keefe
Fridays
12.15pm to 1.55pm
Virginia Keefe gained a Bachelor of Science in Osteopathy at the BSO and lectured for eleven years as a clinic tutor.
She taught Shiatsu (Acupressure) and Qi Gong (Chinese exercise) for many years in Sussex and adopts a holistic approach to her treatments utilising her knowledge of Qi (energy) in optimising her patient's health.
In a physio session Diane will try to closely observe how you hold and move your body.
Diane will try to see and feel which areas need relaxing or stretching and which parts might need strengthening. Some muscles that are stronger may help other weaker ones.
We have a lovely, big, airy gym with lots of equipment. This includes a large plinth, parallel bars, a standing table, an active and passive bike for legs and arms, a vibro-plate, mini trampoline, pulleys, weights and gym balls etc.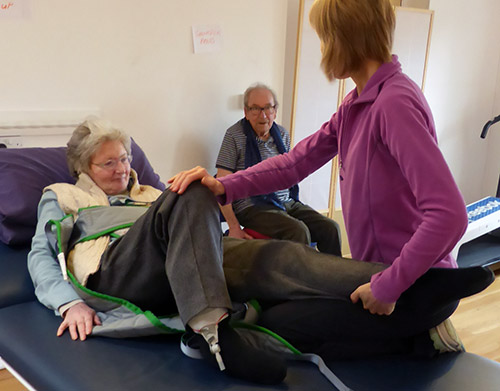 Diane Rees
Tuesdays
11.45am-2.45pm
I am Diane and have been working as a physiotherapist at the MS Centre for about 20 years.
I trained at Guys Hospital in the days before needing to go to university to qualify which tells you I am quite old! I have been a physio since 1981.
I have worked in different settings in London, Australia and briefly Hong Kong. After coming to Brighton to have my family and train as a Shiatsu practitioner I am now self-employed in both physio and shiatsu. They both dove-tail nicely.
I enjoy my day at the MS Centre, it is such a lively and positive place. I love working with people to help find the best of themselves and then maintain that. We have a lovely big gym with lots of good equipment including an active/passive bike, vibro-plate, parallel bars, trampoline, gym balls etc.
I am part of a brilliant team of therapists and volunteers. There is something for everyone.
Reflexology and Indian Head Massage
Indian Head Massage is a seated massage and so can be easily performed on people in wheelchairs.
It can prove beneficial in many ways including relieving eye strain, headaches and promoting a sense of overall well-being. It also can increase blood flow and therefore oxygen and nutrients supplied to the head and neck, relieve mental fatigue, relax the muscles, elevate mood and promote a good quality sleep pattern
Reflexology is popular because the system works on the whole body through zones on the feet, melting away accumulated tension and stiffness.
Sonia Campos
Thursdays
11.00am to 2.45pm
Originally from Brazil I moved to England in 1980 to do a PhD in biomedical engineering.
My interest in complementary therapies began when I started using them to help a lymphatic condition I have had since childhood. Along the way I found that it was a great form of keeping healthy and balanced.
I qualified as a Reflexologist in 1993. Through the years I attended many workshops on different reflexology techniques and related subjects, which has helped me to develop a very individual way of working. In 2000 I qualified in Indian Head Massage and in 2004 I completed my Reiki Level 2 training.
For many years I have been doing my own studies on nutrition and its effects on the body and mind as I believe nutrition is essential for maintaining good health. Finally in 2009, after three years of studying with the College of Naturopathic Medicine, I got a diploma in naturopathic nutrition. I am fully insured to offer nutritional consultations should a client want it.
My experiences of using these therapies, individually or combined, have proven them to be very effective in addressing many physical, mental and emotional problems, helping restore and maintain health and well-being. I have thirteen years' experience working with people affected by HIV and since 2007 I have been working with people affected by MS and ME at the MS Centre in Southwick.
I feel blessed to be able to help people in their journey to achieve a more balanced, healthy and happy life.
Shiatsu is a body-based holistic therapy using the application of pressure to acupressure points, using fingers or palms.
Stretches and joint rotations are also routinely used. It can help with a wide range of symptoms, and is generally very relaxing.
Sufferers say Shiatsu relieves pain and fatigue, boosts mobility and mood and makes it easier to cope with the hardships of life with an incurable illness. Treatment is given through clothing, and generally takes place on a futon on the floor, but other arrangements can be easily made.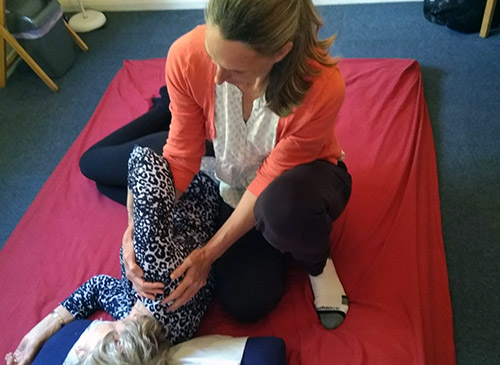 Al Renton
Thursdays
11.00am to 1.00pm
l discovered Shiatsu in 2013, having tried many different therapies following an accident which resulted in smashing my patella some years earlier, leaving me with chronic back pain and limited movement in my knee.
My first Shiatsu treatment was a revelation, and soon after I began my studies at the Brighton Shiatsu College and qualified as a practitioner.
Amanda Radford
Mondays and Wednesdays
9.30am to 1.00pm
Amanda qualified as a Shiatsu practitioner in 2003 from the Nevermind School of Shiatsu in Derby.
She relocated to Sussex and discovered the Centre while working as a teaching assistant for the Brighton Shiatsu College which bases its training programme at the Centre.
Amanda enjoys working with people who greatly benefit from Shiatsu and might otherwise not have access to it. She is also very keen to offer Shiatsu to MS clients' Carers as often they get left out or they simply don't have the opportunity. Carers can access therapies while their loved ones attend another therapy or class so an opportunity isn't wasted!