Closing Date: 12pm Friday 26 May
Interviews expected: Week beginning 5 June

Salary: £22,000 - 26,000 per annum
Full time: 37.5 hours per week (Job shares will be considered)
Looking for a job that makes a real difference? Love building relationships and working with people? Join a small, friendly team making a big impact!
We are looking for a vibrant and energetic person to join our team. This post requires a friendly and outgoing personality, who will work in our busy centre that provides a variety of activities, therapies and services for our members.
The focus of the role comprises day-to-day operations within the Centre, as well as coordinating fundraising events. This will include organising already established events, such as recruiting participants for the Brighton Marathon, but also creating new fundraising events and supporting individuals with their chosen fundraisers. The Operations and Community Fundraiser will work closely with our Centre Manager and Admin and Operations Support as well as our team of volunteers. We are looking to recruit a committed team player who will also be self-motivated in their duties.
We are seeking an excellent communicator, who can work with our members in a friendly and sensitive manner. This role would suit someone looking to develop within their career and training will be given.
Purpose of Job:
To work with the Centre Manager to ensure that the Centre is fit for purpose, providing a welcoming, safe and comfortable environment for our members. To work with the staff, members and volunteers to develop and organise a varied programme of fundraising events. To cover core activities when the Centre Manager is absent.
Key Duties:
Central tasks are outlined in the job description but the Centre is small so the role is very hands-on and would suit a person prepared to be adaptable and to help with all tasks. The job breakdown is approximately 70-80% operations and 20-30% community fundraising and centre events.
If you are interested in applying for this role, please download the job description / person specification.
Please send a CV and covering letter explaining how you meet the criteria on the Person Specification  to info@mssussex.com or post to Sussex MS Centre, Croft Avenue, Southwick Recreation Ground, West Sussex, BN42 4AB by 12pm Friday 26th May.
If you have any questions about the role please don't hesitate to contact EJ the Centre Manager on 01273-594484.

What do we require?
We are looking for people who would be happy to train up as Volunteer Oxygen Chamber Operators.
We need a weekly Monday 11.45am to 4.30pm shift to be covered or a Monday 5pm to 8.30pm shift (correct as of 24/10/22). We are also looking for people for general cover for absence and holidays.
All travel expenses can be paid if required.
This is a real people person volunteer role; you'll be able to put people at ease experiencing Oxygen Therapy for the first time as well as have a general calming and friendly nature.
Your job is to help members who require it into the chamber and ensure they are sitting comfortably and ready for their session; to maintain cleanliness and switch pipes for each person between sessions; to operate and observe the desk controls; to ensure the Health and Safety of those in the chamber and to be able to act in an emergency evacuation. Morning shifts consist of either 2 Oxygen Therapy sessions and afternoon shifts usually have 3 Oxygen Therapy sessions. A session inside the chamber lasts approximately 1 hour and 5 minutes. You will also look after members taking ambient oxygen outside the chamber (we have 2 stations).
The oxygen chamber is a low risk environment but does need monitoring carefully. You do not need to have any specific experience as you will receive full training.
If you are interested in applying please get in touch. You can ring us for more information on 01273-594484. You can also fill out a volunteering application form and send this to info@mssussex.com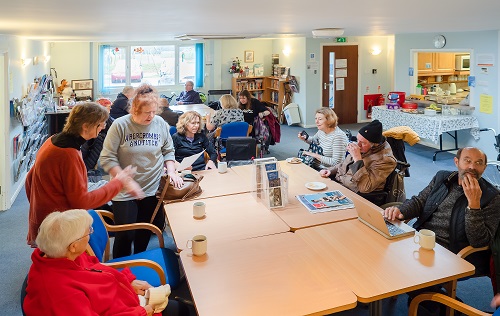 Do you have time on your hands and you'd like to make a difference by helping out our charity with its fundraising challenges?
We are looking for people to help out at events over the next year!
We need people to help out with supermarket collections (next one at Tesco on Saturday 19 November at Holmbush), we need help with collecting and dropping off collection boxes at various venues in different areas.
We are putting on an MS Fun Fair day in July 2023 and would like help with the lead up to this and on the day.
Please contact us on 01273-594484 or email info@mssussex.com to Ali & EJ